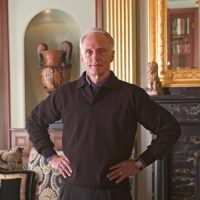 "Cook richly develops characters, allowing us to share their most personal thoughts and professional concerns."
—
USA Today
Critical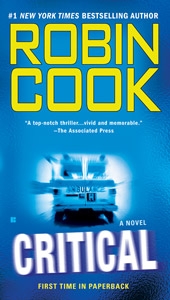 By Robin Cook
Published by Berkley
New York City medical examiners Laurie Montgomery and Jack Stapleton return in this stunning new novel from the master of the medical thriller—a ripped-from-the-headlines tale of an innovative doctor's dangerous downward spiral.
Angela Dawson, M.D., appears to have it all: at age thirty-seven, she owns a fabulous New York City apartment and a stunning seaside house on Nantucket, and enjoys the perks of her prosperous lifestyle. But her climb to the top has been rough, marked by a troubled childhood, a failed marriage, and the devastating blow of bankruptcy as a primary-care internist. Painfully aware of the role of economics in the health-care field, Angela returns to school to earn an MBA; she is determined to erase the memories of the controlling men in her past. Armed with a shiny new degree and blessed with tenacity, intelligence, and impeccable timing, Angela founds a start-up, Angels Healthcare, then prepares to take it public. With a controlling interest in three busy specialty hospitals in New York City and plans for others in Miami and Los Angeles, the future looks very bright for her. Confident in her abilities as both doctor and businesswoman, and virtually assured of finally controlling her own destiny, Angela is on the verge of seeing her ambitions fulfilled.
But then a surge of drug-resistant staph infections in all three hospitals devastates Angela's carefully constructed world. Not only do the infections result in deaths of patients but the fatalities cause a serious cash-flow problem, which puts her company's imminent IPO in jeopardy. And that's not all: Angela has serious doubts about her investors and the sources of their money, and the need for a sudden infusion of additional cash becomes all the more desperate. In the blink of an eye, after all her years of hard work, she may be left empty-handed. Vowing to keep her business afloat, Angela works around the clock to save what's she built—knowing all too well that the only person she can count on is herself.
New York City medical examiners Laurie Montgomery and Jack Stapleton are naturally intrigued by the uptick in staph-related post-procedure deaths at the three hospitals. Aside from their own professional curiosity, there's a personal stake as well: they are newly married and Jack is facing surgery to repair a torn ACL at Angels Orthopedic hospital. Despite Jack's protests, Laurie can't help investigating—thus opening a Pandora's box of corporate intrigue that threatens not just her livelihood, but her life and Jack's as well.
Premium Paperback | 544 pages | 9780425222881 | January 1, 2007