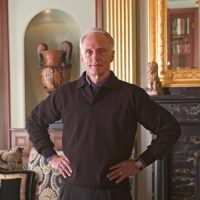 "Cook richly develops characters, allowing us to share their most personal thoughts and professional concerns."
—
USA Today
Cell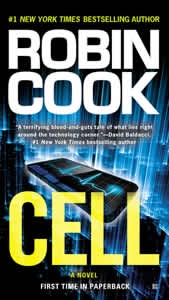 By Robin Cook
Published by Berkley

Interviews with Robin Cook:
CBS This Morning | Medscape
The New York Times–bestselling author and master of the medical thriller returns with a top-notch fusion of groundbreaking medical science and edge-of-your-seat suspense.
George Wilson, M.D., a radiology resident in Los Angeles, is about to enter a profession on the brink of an enormous paradigm shift, foreshadowing a vastly different role for doctors everywhere. The smartphone is poised to take on a new role in medicine, no longer as a mere medical app but rather as a fully customizable personal physician capable of diagnosing and treating even better than the real thing. It is called iDoc.
George's initial collision with this incredible innovation is devastating. He awakens one morning to find his fiancée dead in bed alongside him, not long after she participated in an iDoc beta test. Then several of his patients die after undergoing imaging procedures. All of them had been part of the same beta test.
Is it possible that iDoc is being subverted by hackers—and that the U.S. government is involved in a cover-up? Despite threats to both his career and his freedom, George relentlessly seeks the truth, knowing that if he's right, the consequences could be lethal.
Watch Robin Cook interviewed on CBS This Morning:

Praise for Cell:
"Rare is the writer who can take us into the fast-paced, miraculous, often bewildering world, of modern medicine the way Robin Cook can. CELL is a superbly crafted, full-steam thriller, to be sure, but also a vivid lesson in just how momentous are the advances being made in medicine almost by the day—and how highly unsettling are some of the possible consequences."
— David McCullough
"With Cell Robin Cook demonstrates why he is the undisputed king of medical thrillers. Can a smartphone app kill you? You'll believe it can after you read this story, which blasts along faster than a truckload of quad core processors. Equal measures a substantive social commentary that we will all soon have to deal with and a terrifying blood-and-guts tale of what lies right around the technology corner, Cook has delivered a home run worthy of the writer who has consistently thrilled millions ever since his blockbuster Coma."
— David Baldacci
Wow! No wonder Robin Cook is regarded as the master storyteller of medical and technological thrillers. "Cell" combines a peek into our future with a deep appreciation of our eternal values. The result is a can't-put-down emotional, literary and educational experience.
— Alan M. Dershowitz
"Medicine is about to go through its biggest shakeup in history. Who could better capture this in the form of a medical techno-thriller than Dr. Robin Cook? CELL presents an enthralling, balanced look at the imminent future of digital medicine, with the smartphone center stage."
— Eric Topol, MD, author, The Creative Destruction of Medicine, Editor-in-Chief of MEDSCAPE, Chief Academic Officer, Scripps Health, and Professor of Genomics, The Scripps Research Institute
"CELL might be Robin Cook's best book . . . a page-turner par excellence with potential impact on health policy. It's a fun, thought provoking story and, like his book COMA, cries out to be an engrossing movie."
— Senator Orrin Hatch, ranking member of the Senate Finance Committee and a member of the Subcommittee on Health Care.
"Medicine is undergoing a major change as it is pulled into the information age. Robin Cook's brilliant new creation iDoc, the physician smartphone app, may soon become a reality. Cook's latest, iconic, paradigm-shifting thriller, CELL, demonstrates the chilling implications of the electronic transformation of medicine today."
— Peter Black, MD, PhD. Emeritus Professor of Neurosurgery, Harvard Medical School and President, World Federation of Neurosurgical Societies, 2009-2013
"Robin Cook invented the medical thriller with COMA. Now, with CELL, he yanks us into the new healthcare paradigm, sounds the alarm for a new generation of technological terrors — and shows us once again why he's the master of the genre."
— Joseph Finder, New York Times bestselling author of PARANOIA and BURIED SECRETS
"Cell provides a frightening glimpse into the world of 21st century American medicine, where your primary care physician is replaced by a smartphone app with a very disturbing strategy for reducing health care costs. The master of the medical thriller has done it again!"
— Dr. Carmen Puliafito, Dean of the University of Southern California Keck School of Medicine.
"Will the digitalization of American medicine solve our health care crisis? The master of the medical thriller provides a shocking vision of the future which is only too real."
— Dr. Carmen Puliafito, Dean of the University of Southern California Keck School of Medicine.
"Robin Cook is the master of his genre, and in Cell he shows he is still at the top of his game. Science changes rapidly, and Robin Cook consistently discovers suspense at its bleeding edges."
— Michael S. Roth, President, Wesleyan University, Middletown, Connecticut
Paperback | 448 pages | 9780425273852 | February 4, 2014